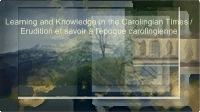 Learning and Knowledge In the Carolingian Times / Erudition et savoir à l'époque carolingienne


Sacramentary of Charles the Bald / Sacramentaire de Charles le Chauve

A sum about learning and knowledge in the Carolingian times, with notes about the Carolingian civilization / Comment l'on pensait et apprenait à l'époque carolingienne, avec des données complémentaires sur la civilisation carolingienne

| English version | version française

New! Carolingian Caesaropapism / nouveau! Le césaropapisme carolingien

Disclaimer | Copyright | Privacy | About Us | Site Map
Données légales | Copyright | Respect des données personnelles | Qui sommes-nous? | Plan du site

check more sites (amateur astronomy, flight simulation, balcony vegetables gardening, world's trends) by this site's webmaster! / d'autres sites (astronomie amateur, simulation de vol, jardinage de légumes en balcon, actualités du monde) par le webmaster de ce site!




Website Manager: G. Guichard, site Learning and Knowledge In the Carolingian Times / Erudition et savoir à l'époque carolingienne, http://schoolsempire.6te.net. Page Editor: G. Guichard. last edited: 9/28/2012. contact us at ggwebsites@outlook.com